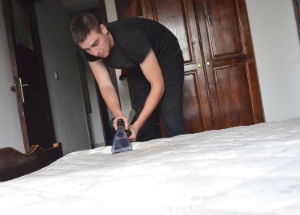 Since we spend a third of our lives sleeping it is crucial that we maintain our mattresses and beds perfectly clean. The reason for this is that if not properly and often sanitised, they gather dander, bed bugs, dust mites and bacteria which cause many unpleasant health problems.
Our company offers excellent mattress cleaning that guarantees in depth and thorough sanitising of beds, beddings, pillows and mattresses. Use our mattress cleaning services, available in Earls Court at least once every six months to have perfectly hygienic beds.
Reliable Mattress Cleaners Earls Court
If the mattresses in your home, rented flat, hotel or other estate need cleaning, contact us as soon as possible. Our services guarantee:
Effective removal of smears and smells
Removing of bed bugs, dust mites and allergens
In depth sanitising of mattresses of any kind and brand
Deodorized and refreshed mattress fabrics
Fast and professional cleaning process
Safe and long night's sleep
Fill the form for a free quote!

Take advantage of our services to maintain the mattresses in your property in good condition and use them long enough. It is recommended that you provide professional mattress cleaning at least every six months for best results. Our staff will check the condition of the mattress in advance and then apply hoovering and removing of the stains and smells from its fabric. We use special cleaning solutions to spray the mattresses and leave them for around 10 to 15 minutes.
"I have an allergy of dust mites and I should clean my mattress at least once per year. We use the mattress cleaning services that are provided by this agency and are very pleased with them. The cleaners do their work excellently and keep our mattresses perfectly sanitised and deodorised." – Morgan
Mattress Steam Cleaning Earls Court
Then, our staff apply steam cleaning on the mattress to extract the invisible pollutants and remove them from the fabric completely. The steam disinfects the mattress, while the machine removes the bacteria. In the end whenever the mattress becomes perfectly clean, our staff refresh it with a deodoriser. Order the mattress cleaning which we provide in Earls Court SW5 and let our qualified staff do the necessary work.
You can ensure the longer usage and perfect condition of the mattresses in your home and in any other property by ordering our services. We offer reliable mattress cleaning to the SW5 Earls Court residents, done with the help of high-end machines and safe for the health products for sanitising.